TheRktmn
Original Curbster



Joined: 22 Jun 2005
Age: 57
Posts: 8151
Location: TX, USA

1969 Mercury Cougar XR7
Posted: Tue Dec 06, 2016 2:38 pm

Post subject: mo872: "The Heap"
---
mo2872:



Well, while not as long-storied as TheHero, here is an overview of The Heaps time spent with me!

FOUND! Parked in an industrial area, owned by one of my neighbors brother. I had called the neighbor, to inquire if he might want to sell his '67. He told me he had sold it a few months before, but hold on, he'd call his brother, and ask about his '68. OK. Brother was ready to part ways with it, and it became mine.



Like the newbie I was(still am, really), I immediately started taking things off:



Went off to blast/metal repair, and came back clean as a whistle:



Epoxy primed, at the body shop for metal replacement, floor pans, and a few holes:

[hr]
Finally came home, and up onto my home-made body dolly:



Did all my own "smoothing", as I just couldn't see paying someone to do something that I THOUGTH I was capable of. Turns out, I was capable, I just took a whole lot longer! Ah, well, kept me out of the bars!

Smoothed off my cowling, as I'll be using a VA unit, no outside air required:



Paintin' time! Did that, as well....figured if it turned out "decent", I was money ahead. If it didn't, all I've wasted was my time and effort!
Sealer applied:



Basecoat(HOK Galaxy Grey) this is also the final color of the top:



Lower color(HOK Brandywine Kandybasecoats) going on:



And all cleared/scuffed/buffed:



Up close:



And as she sits today, with still a lot to go:



[hr]The car was originally ordered by a local Tulsa man. He kept it until the mid 90's, when the fellow I purchased it from acquired the car. So, I am the third owner. All in all, it's coming along well, IMO, thanks in large part to forums such as this, and, specifically, to individual members who are willing to pass on their knowledge.

When I first started, I was thinking I'd call the car "Sooner Cat", based on the color I was going with, and, of course, my location. That name was quickly nixed, and given over to "The Allowance" by Mark/Local Hero, since my other/better half keeps pretty tight reigns on the family-funds. Well, it then morphed into "The Heap" somehow, probably an email, and has really kind of grown on me under that monniker. So, The Heap is on the streets again, though not quite "DONE".
[hr]Stumbled across some more "before" photos.....



And took a few more "afters"......this is my "favorite" shot of the evening:



And, it's not "up" a tree, but it is "under" one, perspectively:

[hr]
Need to adjust those hood springs and get the markers ordered. No way I'm putting ratty old ones in there now....[hr]
And one I need to re-create as an "after" shot:


[hr]So the Heap has been down most of the summer with a bum clutch master.....finally got on it, and a couple other items.

New Flaming River steering U-joint:



New Modern Driveline "LF" series clutch master and linkage:



I also did the roller-bearing pedal hanger conversion while I had it out.....but did not take pics. Having trouble getting the clutch system to bleed, so will try again tomorrow night with an assistant. More later![hr]Holy Mary, mother of Haysoos! The clutch is active!!!!! After several nights of frustration, and tools almost leaving my hands rapidly, the new master/slave/linkage combo is in, and working! SOOOOOOOO smoooth!!!!
[hr]The Heap is alive. New carb solved the running crappy issue. Didn't know what was wrong with the Eddy at the time, and my "guy" is a Holley guy, not Eddy.....so, went with a Holley.

Turns out, the Eddy accelerator pump seal had come off the plunger.
, now I have a "spare".

Any advice on storing a carb for "just in case" useage? Clean, obviously, but.....? Coat with WD40, or something??[hr]So, started working on plumbing the fuel line to get rid of the rubber hose, and put the inline filter in. Need some fittings, hopefully I can get a -6 90* to get away from the air cleaner base.

Per LoHo's request, here are a couple non-Blurry pics:



Dunno if it's the new carb, or the new clutch linkage, but The Heap seems pretty snappy now.....took 2 to football practice in it tonight, and got a little.....ahem....sidewards, when leaving. Now, it's no 460, or nothin, but, me like!
[hr]New hardline to the carb, per LoHo's request for a "non blackblurry" photo.......:




I put it over that way for a couple reasons, one being, when the a/c compressor goes in, it should be well hidden/tucked behind, and two, it's still far enough away from the header to hopefully not have boil issues.

Regardless, it's way better than that swoopy thing I had there before![hr]The Heap gots a new rear butt!




Soaking fasteners in WD, already have the sway-bar removed. Woohoo![hr]
Kinda curious if the 'Vic calipers will swap onto it.......:hmm:.....that'd be a score![hr][quote='mo2872' pid='1337' dateline='1383104221']
The Heap gots a new rear butt!




Soaking fasteners in WD, already have the sway-bar removed. Woohoo![hr]
Kinda curious if the 'Vic calipers will swap onto it.......:hmm:.....that'd be a score!
[/quote]
Are you going to cut the tubes and re-weld to center the pumpkin or just move the spring perches?
[hr]Well, it's time for an update on The Heap.....this winters items include a 5 speed swap, a rear end swap, and if I can get time, a re-seal of the mill(that may have to wait, and put up with the drips)...

The "volunteer" before cutting brackets off, came from a 96 Explorer, 3L73, 31 spline axles, discs: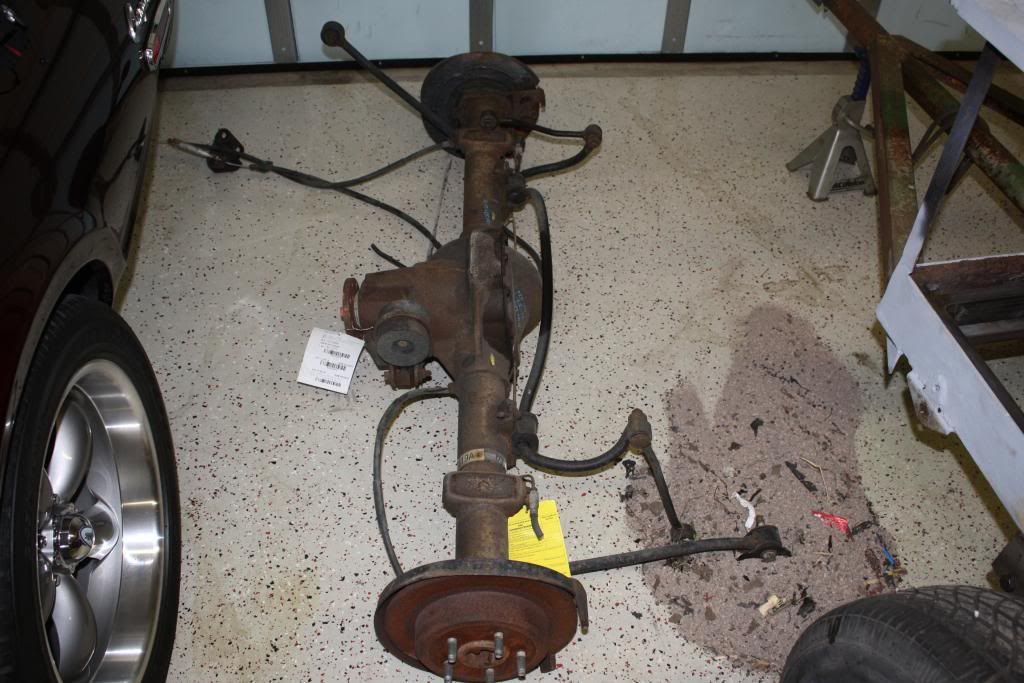 After knocking the bracketry off, and marked for perch locations:



And, since the rear gearing would wind up my RPM's to a high level, why not swap in a 5 speed? Found a T5 from an 89 GT Mustang, but it needed a going-through. No pics of "before" teardown. Fail. But, several of the teardown:



Ended up here:



Rebuild kit: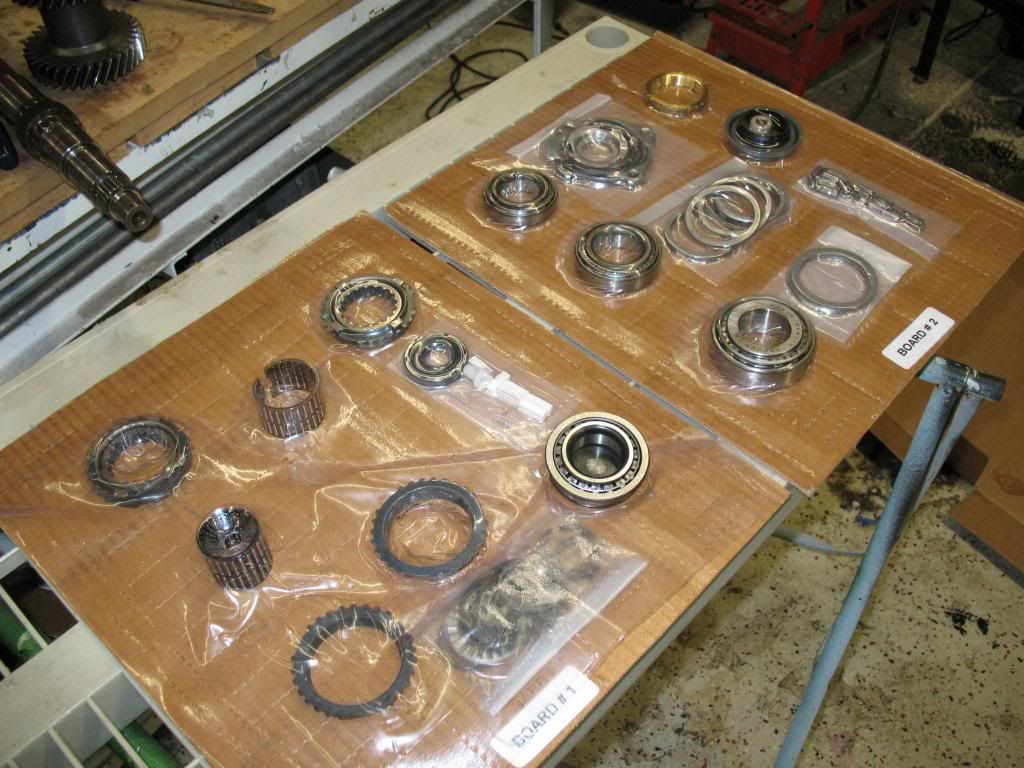 And going back together: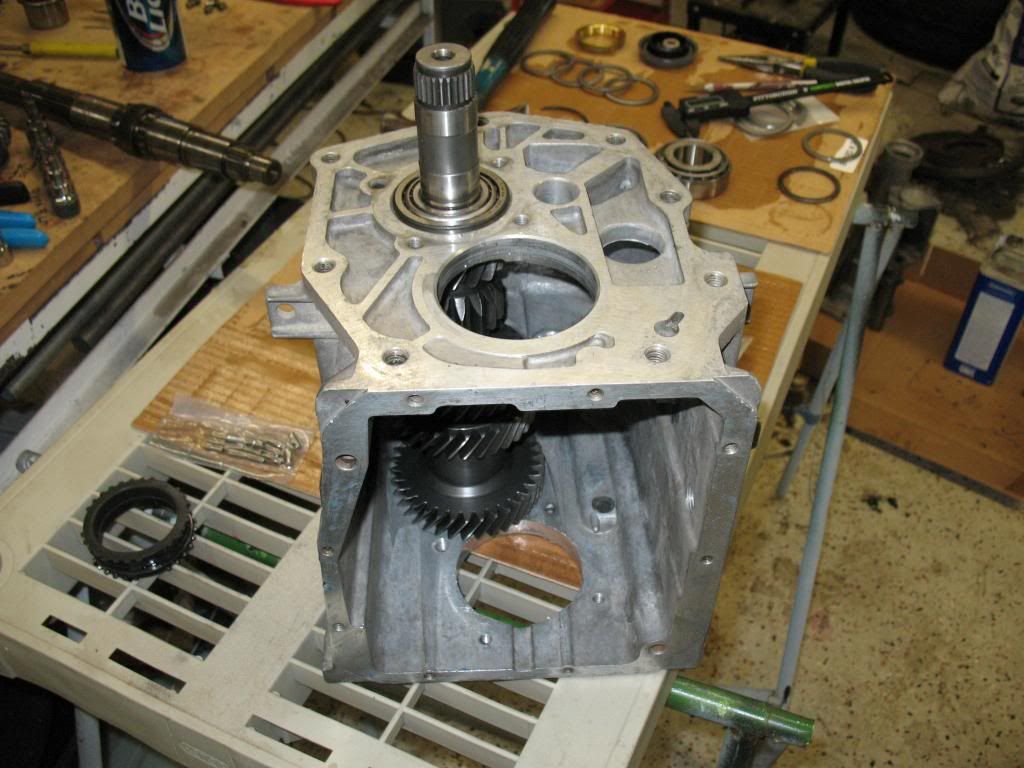 And ended up here: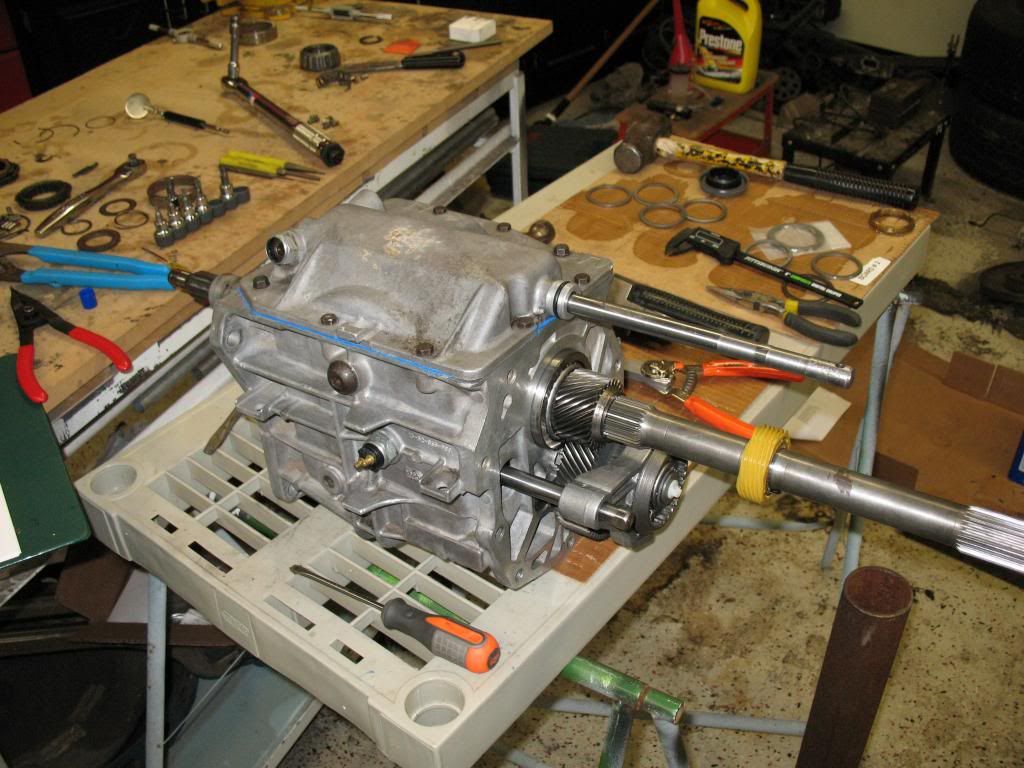 The transmission rebuild interrupted progress on the axle swap, but I'll get on it soon!
About it for now.

-T3[hr]
Oh, and I'm also waiting on the tail-shaft bushing to be able to complete the rebuild. Figured it was wiser to wait and put the tail housing on AFTER bushing install, just in case.[hr]Tailshaft bushing came in today, so as soon as I could get shopside, installed that, and completed assembly of the T5.......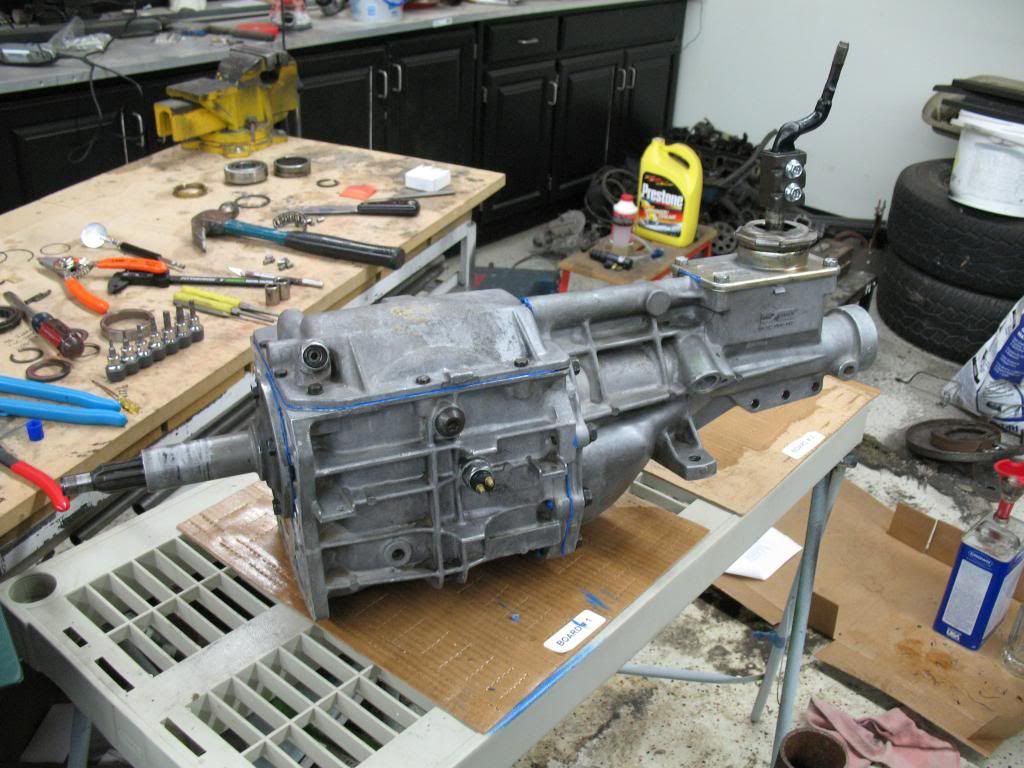 Also went part pulling at lunch today for some 8.8 u-bolts for the axle. Ended up taking the wrong wrenches. DOH. But, wandered around for a bit longer, and lo and behold, there was an Explorer sitting there sans rearend, and ALL 4 u-bolts and nuts just LAYING on the ground.
Picked them up, and walked my happy feet right on up to the register. Five bucks later, I'm on the way back to work. "New" ones from Ford are around twenty bucks EACH, so, I count that as a score.[hr]A'ight, got some motivation going, and made some progress. Ordered up a RCCI horn relay, as my horns sounded like sick water buffaloes.

http://www.rccinnovations.com/index.php?show=menu-relays

It's the HR001 relay. Before I tell WHAT I did, let me tell you how I did it......RCCI's dedication to "plug and play" simplicity, that's how. So easy, even a caveman can do it. So, on with the install.

First thing to do is find a suitable mounting location for the relay, in a dry location. My choice was inside the core support, where the voltage regulator normally goes. Since I swapped to an internally regulated alt, the space was empty, and it was within reach of one of the factory horn wire connectors.



I cleaned the paint off the core support to provide a good ground, per the RCCI instructions. Then fed the factory horn wire back along the harness where it passes through under the drivers side headlight, and plugged it into the relay. Next was feeding the relay wires back out, and plugging them into the horns....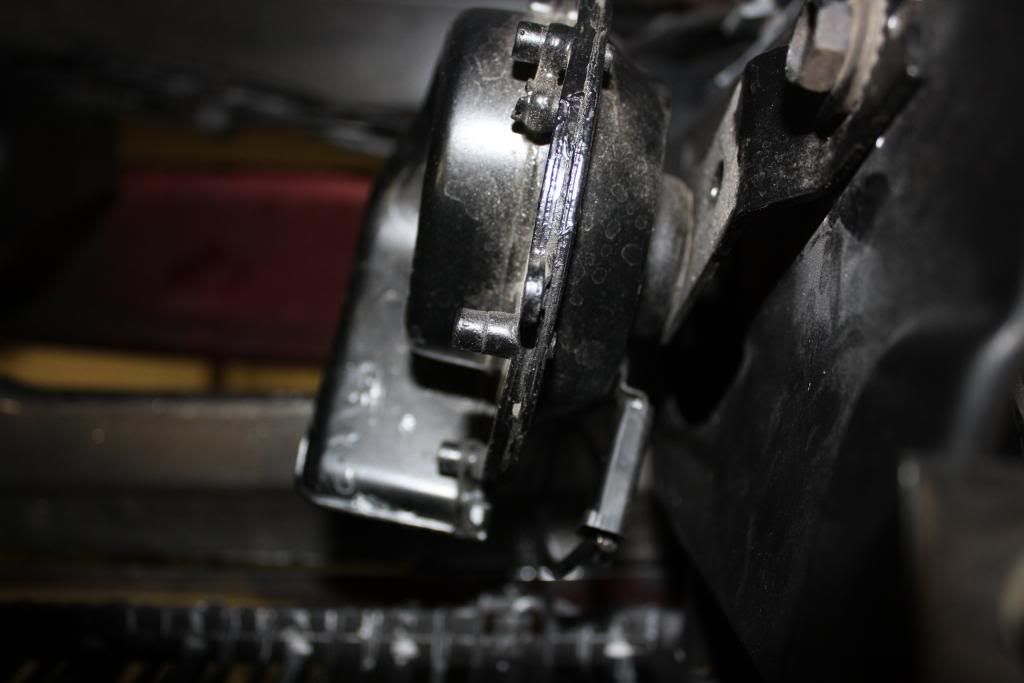 Last step is to connect the "power" wire to a 12v source. Since I already had a distribution block there on the fender wall, I connected it there(sorry, no pic! You can catch a glimpse of it in the relay photo above....top of the inner fender where the washer bottle would normally go. Not the shiney breaker, just aft of that, black plastic). After that, connected the battery back up, and pushed the horn button.

Nuttin' but clicking. Hmmmmm, what gives? Read the instructions trouble shooting guide, and it suggested the horns themselves were not grounded. Pulled them loose using 1/2" ratchet, cleaned the paint off, and bolted them back in. Pushed the button.

Holy rusted metal, Batman! The Heap has a HORN, now!

Way to go, Bob, with another quality product from RCCI!

Adding a close up of the relay.....there is even a guide on it!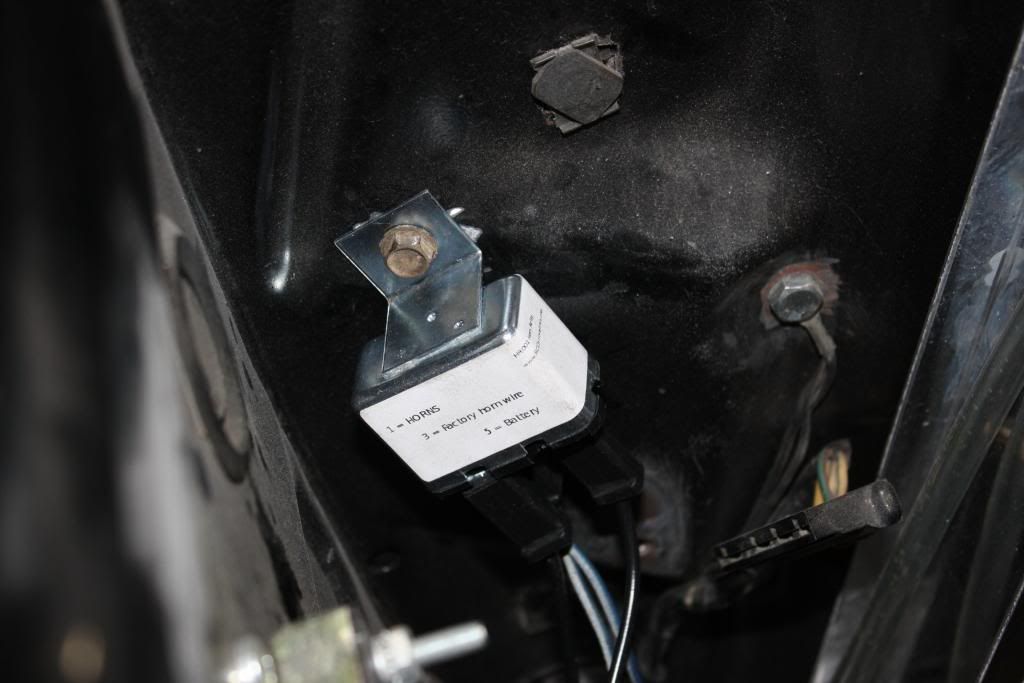 And yes, it really was that easy. RCCI puts correct connectors on the wiring for you already.

[hr]Received the Modern Driveline bell adapter today, so, after dinner with the neighbors, I excused myself to the shop.

In place, you may notice the right side of the adapter does not line up with the bell holes. This is by design. The two inner holes on that side get transferred into the bell, and bolted through internally. The outer two holes receive the bolts from the trans ears onto the adapter: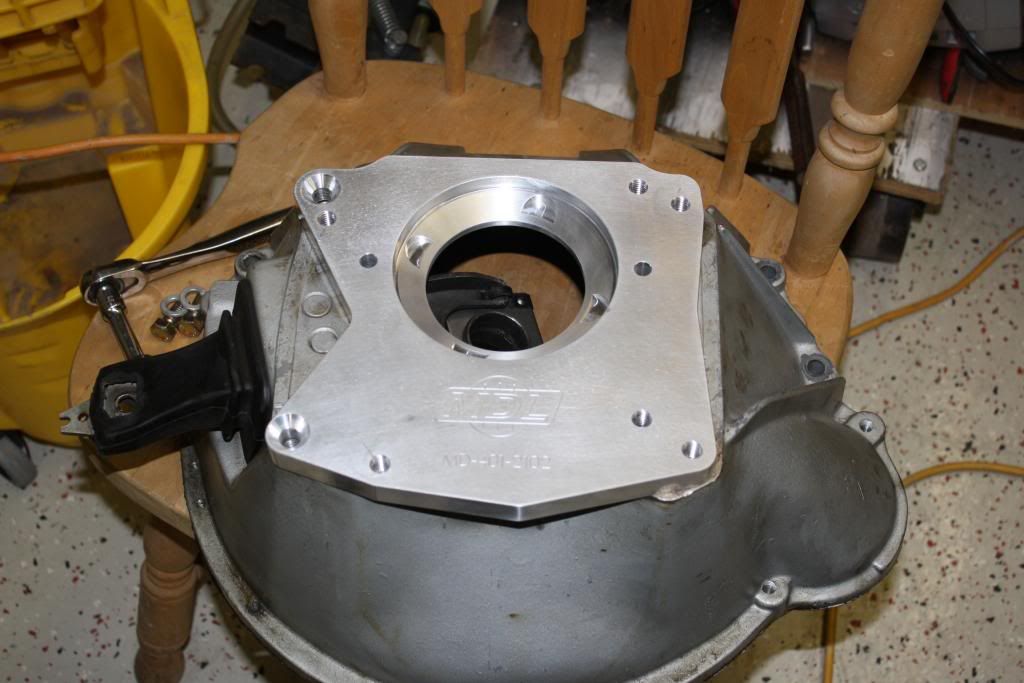 Closer view of that side: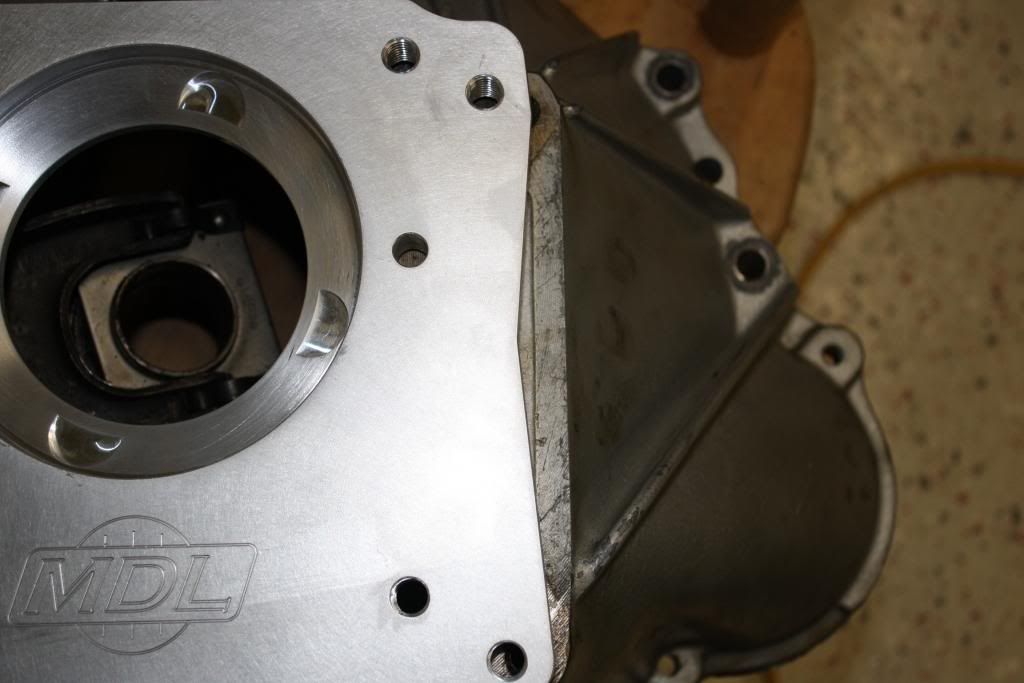 Those middle holes, according to MDL, are for registering/aligning during milling.

Holes transferred and drilled through the bell: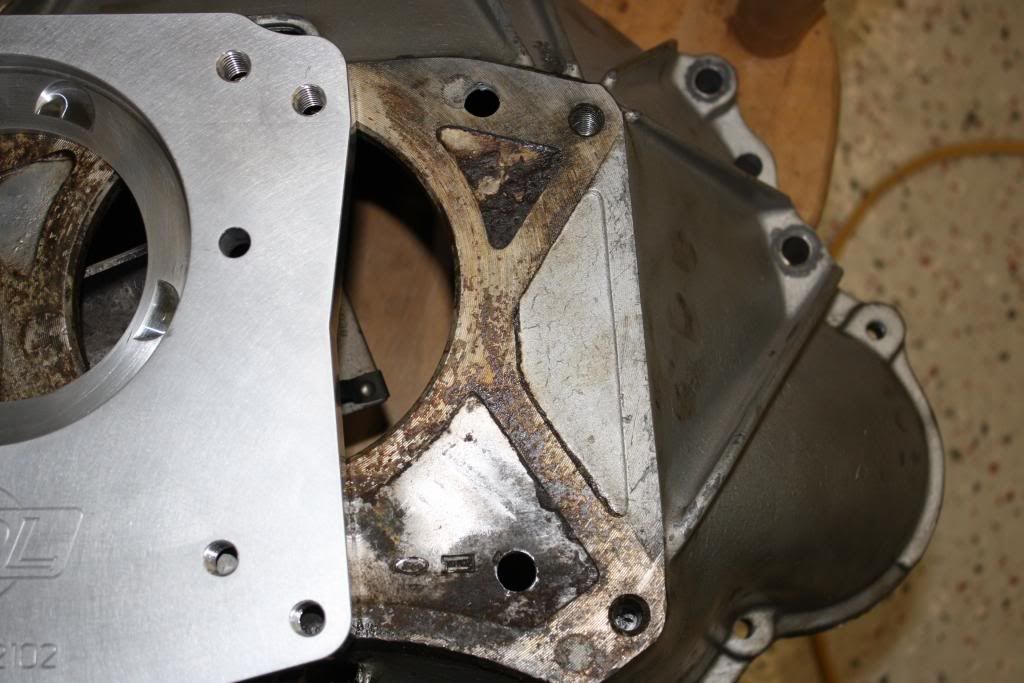 Bolted it all together, and it's really snug and......stouter feeling?......than the bell itself was. Neglected to take a pic of the bolted together unit.

All for tonight!

[hr]More progress!

Trans mated to adapter/bell, but not bolted down yet: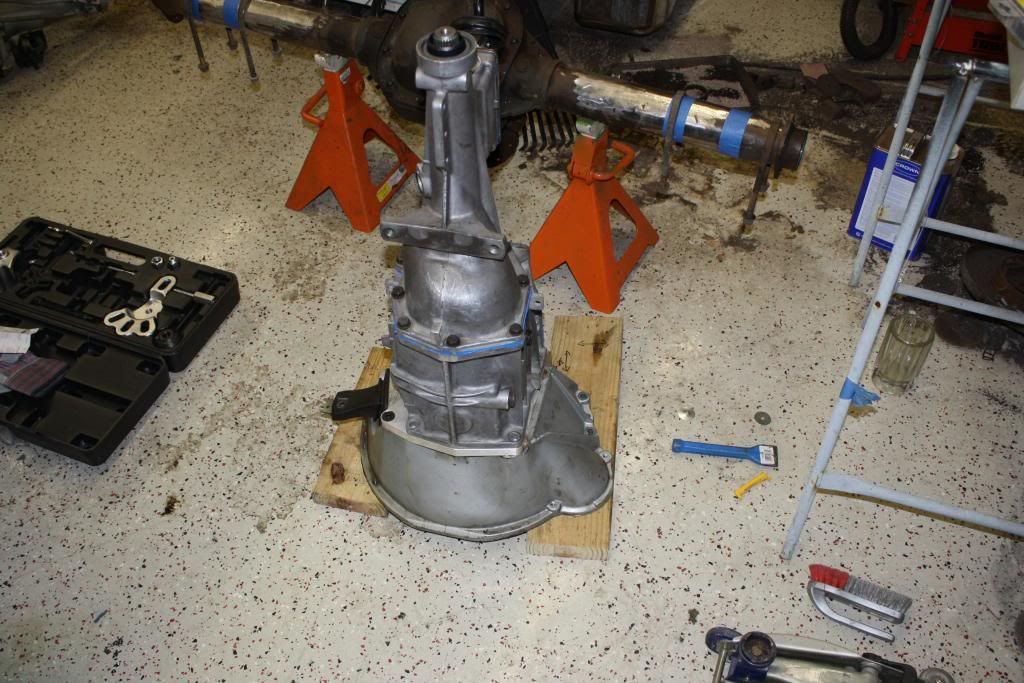 Left side close up:



Right side, tho it's blurry......ooops.....:



T5 mates up nicely with the MDL adapter, and following their instructions, makes for a nice solid unit. CalTracs get here tomorrow, so more progress to come!

[hr]Oh. My. Gawd.

Weekend in a nutshell......

Friday, started bolting pieces back on.....flywheel, clutch, bell and adapter.......



And THEN the fight started. Figured the T5 being lighter than the loader, I'd just muscle it in.....well, that might have worked, had I not been on the KwikLift....so, bring out the jack.....manage to get it "close" without dropping it on my head, but it won't go. Fight with it a while, and give up. FFWD to Saturday, I get my oldest out there helping me, by manipulating the jack while I handle the trans. No dice. 1.5 hours we try, no dice. Go on to other things, and release him from involuntary servitude. Visit the shop several times during the day, trying different approaches. Even tried tying it up through the shifter opening, thinking the cord could "catch" it should I falter. That was a decent idea, until I realised, I really needed the front of the trans lashed off way further forward than the shifter opening in the tunnel. Scratch idea # 22 off the list. Give it up for the day/night.

Sunday, go to Church with the fam, say an extra heartfelt prayer for success. Get home, and work on anything BUT the transmission. Eat dinner tonight after taking youngest to ball practice, hang with them watching Tonya Harding/Nancy Kerrigan interviews, then head shopside. Idea #23, long, flat board with jack way fwd on the trans, and one leg operating the jack handle, while two arms manipulate the T5(all the while BURNING my core, and making me realize yet again, I need to work out more/again), the dang thing slips into place like.......well, like Adam into Eve!

And so, without further ado, I ended the night here: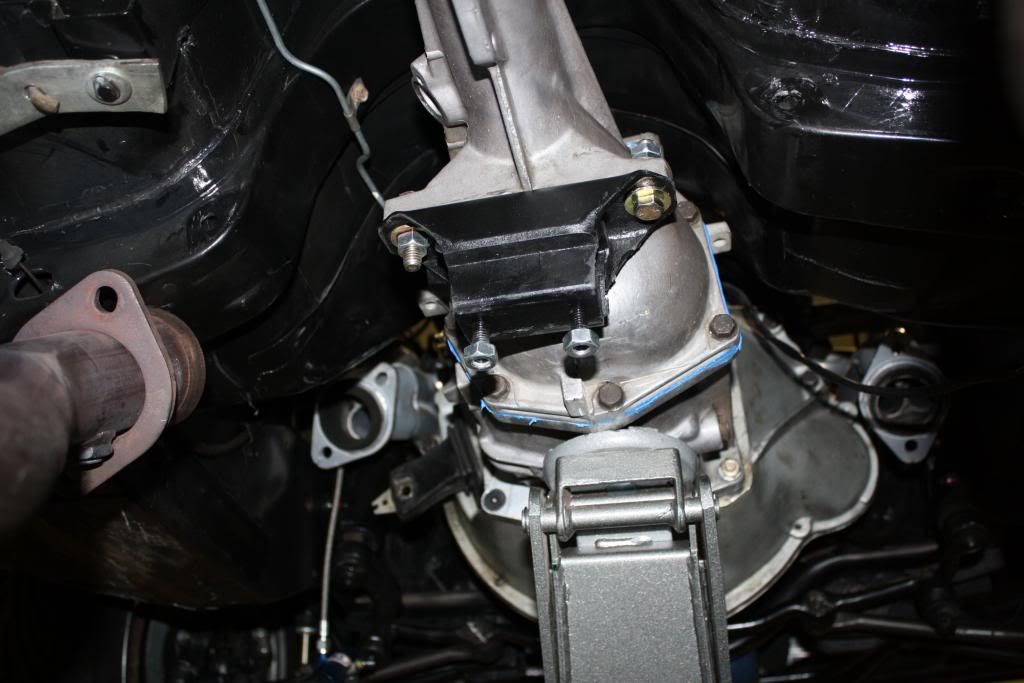 Nice shot of the MDL T5 to toploader bell adapter, that last shot. Nice piece. I do think I'll have to take a cutoff wheel to the shifter opening, just a bit. Might be different with an actual T5/SBF bell, but with this setup, I'm hitting the fwd edge of the opening just a bit. And, thought I might mod my crossmember to make it work, not real sure on that now, either. Hits in all the right spots, frame-wise, but the T5 seems a little taller through that area, so, the mounting ears on the crossmember won't quite reach.

That's it for now![hr]Yeah, well, don't go turnin' blue holding your breath on my account.......
[hr]
A'ight, you want pics, you get pics......crappy cell pics, but hey, they're pics......:



[hr]Getting closer......

Rear end in place, with all brake lines ready to go....



Driveshaft shot....you can see the "offset", but should be fine, so long as the "plane" is good....



Stupid adapter that took forever to figure out:



Rear cover/girdle all buttoned up:



Start of the home whittled shift lever:



Put the wheels on tonight, too, but forgot to take a pic of it sitting on it's own with the good camera. Check FB for that one!

All for now![hr]
Oh, and should have cleaned up that crossover brake line, but, I've no steel wool, and was just too eager to move forward. Ooops.[hr]I have discovered over the course of owning The Heap, that some things are just inevitable when you own an old car. Things like, you WILL want to go faster. You will want to stop quicker/safer. You will want to launch harder. You will blow up a motor.........sometimes you'll get to do ALL those things at once! Other times, you'll just be sedately cruising along, breaking in your new transmission, when out of NOWHERE, KABLAMMY!!!! That was my world on Friday, 4/10.

Pics of the mess:
Rats, it wasn't something up top:



Pulled the pan......first indicator of trouble, huge "bruise" on the left side of the pan, towards the front. Didn't capture an outside shot of that one......but what I found INSIDE made me ill....
You can see the scarring/hickey on the right side of this photo:



Just behind the oil pump, you can see the end of the connrod, with one stud "frozen" and sheared in place...



The other stud, un-sheared, was in the bottom of the pan, along with its nut:



So, my thought is, when the engine was assembled, that one nut was off on the torque by whatever miniscule amount would allow it to work loose over X number of years. It lets go, dropping into the pan, while the other holds on for dear life as long as it can. Finally lets go, and all hell breaks loose. That piston is now frozen in the hole, the crank is pretty boogered up where it had been slapping the connecting rod, and there are chunks gouged out of the sides of the block. Stroker relief, anyone???
.

That's all the damage I can see SO FAR. I've been warned/advised that the cam may be jacked up, and possibly the head on that side, as well?

It's dreadfully unfair, I think, that I wasn't even getting to REALLY enjoy the process of grenading the thing!

[hr]So I got ye ole block out last night.....

Trail of tears.......



Chunks missing from block and piston....



D90E block.....'69 or '79?


[hr]More pics......
Wrist pin area is missing.....think the mating rod from the other side did that....



Block damage.....



And crank....though it's hard to see. Couldn't get a good photo......gouged pretty well.